Daily News
Details

Parent Category: NW News
NW Hats can only be purchased at General Sports (7505 Ikola Way Edina, MN 55438). 
Please contact Shawn Vellek with any questions.  
612-928-1764 or 
This email address is being protected from spambots. You need JavaScript enabled to view it.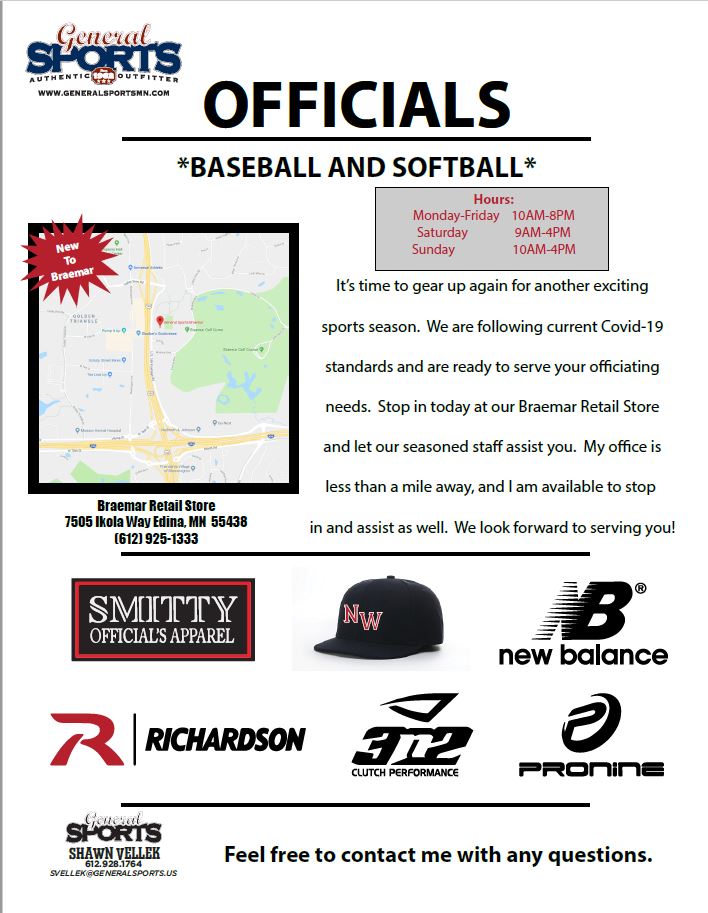 Details

Parent Category: NW News
I attended a baseball coordinators meeting yesterday at the MSHSL office and received information that conflicted with something I said at the all hands meeting on Saturday.
This is regarding the requirement to have baseballs that are stamped with both the NOCSAE and NFHS markings.  I said that if the school doesn't have approved baseballs you don't play the game.  This is incorrect.  The expense of paying umpires, bus drivers, etc., warrants that the game be played.  The procedure to play the game would involve the umpires writing an incident report after the game.  Playing without an approved baseball also opens all kinds of liability issues should someone be injured.  Associate Director Bob Madison doesn't want it advertised that the game can be played. 

This baseball requirement was passed three years ago and was to have taken effect last season.  It was delayed a year so that schools could exhaust their supply of the old balls.  All baseballs that were sold in Minnesota last year have both markings.  Therefore if a school presents you baseballs without both markings, you can be assured that these balls are at least two years old.  Press them hard to get approved baseballs before you relent, subject yourself to writing the incident report and possible liability issues!

Ken Sargent, NW Umpires High School Coordinator
Details

Parent Category: NW News
Northwest (NW) Association of Umpires has prided itself on providing the game of baseball with the high level of quality officiating that it deserves. We are the premier umpire association in the Northern Midwest, based in Minnesota's Twin Cities of Minneapolis and Saint Paul. We umpire collegiate, high school, men's amateur, and American Legion baseball throughout the state of Minnesota.
Applications are now being accepted for the Assignment Secretary position, which will be responsible for game-assigning activities for its 120+ umpires, for about 3,000 games per year, across the multiple leagues, teams, communities, and organizations which NW Umpires serves.  This is an independent contractor position and will receive direction from the NW Board of Directors.
Application materials should be sent directly to NW Umpires via email. A hiring committee made up of NW Umpires Board of Directors and umpire staff will interview qualified candidates and select the new Assignor.
APPLICATION INSTRUCTIONS
To apply for the position, submit (email only) a customized cover letter (indicating why you are interested and qualified for this position), resume, and three references in PDF format to: This email address is being protected from spambots. You need JavaScript enabled to view it.
TIMELINE
Post Position: August 3, 2020
Application Deadline: preferred by August 14, 2020 and will continue until the position is filled
Details

Parent Category: NW News
Dear CBUA Umpire:

The first in-season training video is now ready and available for you.

We are excited to be working with Dave Yeast, coordinator of baseball umpires for the Pac-12, Big West and WAC.  Dave will be graciously sharing his training videos with the CBUA this season, and the first Yeast video is now ready for you.

Here is the link to the video, also posted under the VIDEO tab at the CBUA Central Hub on Arbiter:  http://cbua.arbitersports.com/front/103681/Video/player/34886/38221

Next week, you will have access to the first CBUA-produced training video of the season.  Our goal, at least early in the season, is to share at least one video per week with CBUA members from the CBUA and/or Dave Yeast.

For those opening the season this weekend, best of luck!

Thanks.

Mark Uyl
CBUA